Woodwind player Jim Greenberg, of Minneapolis Minnesota, was an important member of Skogie and the Flaming Pachucos in the early 1970s.

See: Skogie & the Flaming Pachucos V4
and: Skogie & the Flaming Pachucos V5
and: Mozart's Mafia

Jim replaced Dick Rogers when Dick left the band. Jim began handling the business aspects of the band as well as securing plenty of media coverage, freeing Rick 'Skogie' Moore to focus on songwriting.

Jim Greenberg attended South West High School with Dennis Peterson and Al Galles . He was also a member of one of their pre-Skogie bands ( Mozarts Mafia V2 ).

Oddly he was away on vacation when Mark Goldstein invited Peterson and Galles to join Skogie & the Flaming Pachucos V5 . Greenberg was quite shocked to come back from California to find an whole new rhythm section in place!

Sadly, after participating in the recording sessions that led to Skogie's first record , Greenberg decided to make a career move away from rock into free jazz.

The remaining four members redubbed themselves " Skogie " and the rest is history!

---



From Insider Magazine, May 1972, by Tom Murtha:
Skogie and the Flaming Pachucos. One Groveland.
"Bugs" Goldstein has just stepped up to the mic in his leather jacket and Skogie T-shirt: "Brothers and Sisters of the Revolution." The crowd is hushed except for an occaisional blood-curdling scream.
"I want to tell you something about rock and roll.
We've got a man here who was born on the streets of Detroit, been in and out of jail, on and off smack, and shot twice."

"Big Jim" Greenberg appears, wearing a leather studded arm band, courtesy of Ruby and the Dykes, no shirt, and a flowing purple cape.
The crowd roars, but Bugs keeps his cool.
"This man has come all the wayy down here to Minneapolis to sing you some rock and roll."

"Gosh, sure smells good in here," observes Big Jim.
It's time for the definitive hard rock song: "Ram It!"
Greenberg throws his mic and clothes around the stage and into and at the audience while roaring out his anthem of contempt and masculinity:

You been messin' with my sister!
I thought I told you to get lost.
But you said 'Fuck you, buddy, it's a free country."
Now you're gonna pay the cost.

The song has nothing to do with revolution, but it sure SOUNDS like it does.
When Greenberg crotch-rides the microphone, it doesn't seem too likely that he's treatening to beat the shit out of somebody, either.
The girls scream anyway.


Al Galles met Jim Greenberg in gym class when Mozart's Mafia was thinking of adding a horn-section for a school assembly.
Mid-sixties Greenberg was a rising young member of the high school intellectual elite, member of the newspaper staff, debate team, and student government.
After the appropriate amount of soul searching and overcoming parental opposition to his association with such unsavory characters as Denny Peterson and Al Galles ("They were the black sheep of our school") Jim joined.
The Mafia's versions of "Harlem Shuffle" and "I Feel Good" went over with the student body, so the group became and 8-piece choreographed white punk-soul band playing the standard local bag of "Show me" and "Midnight Hour."

Jim decided to go professional, got into the union and joined a flock of now-legendary local show bands.
He always seemed to get in just about the time the bands were going thru the final debilitating stages of personnel problems.
Following the pattern, he went thru the Sounds of Soul, Loviah Smith and the Soul Sensations, Blues Cube, the Sir Raleighs, and the unnamed off-shoot of the Sir Raleighs that didn't become Copperhead.
After a year off from music and trying journalism at the University of Minnesota, Greenberg returned to commercial rock for spending money, gigging with Oedipus Rex and the Syndicate.

(Note: this bio is a work in progress)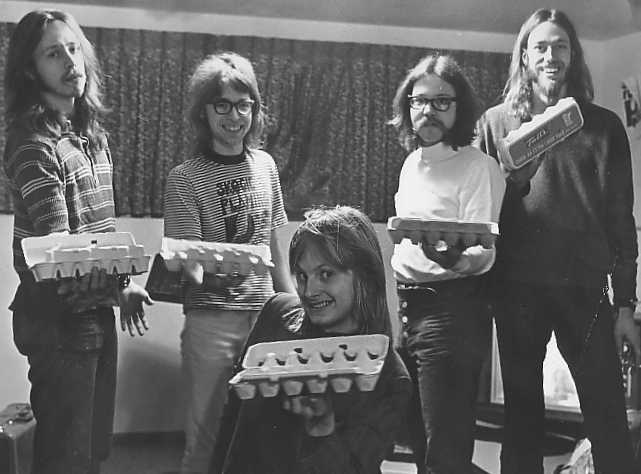 Galles, Goldstein, Moore, Greenberg, Peterson. 1972 in The Euphorium Lounge, Edina, Minnesota.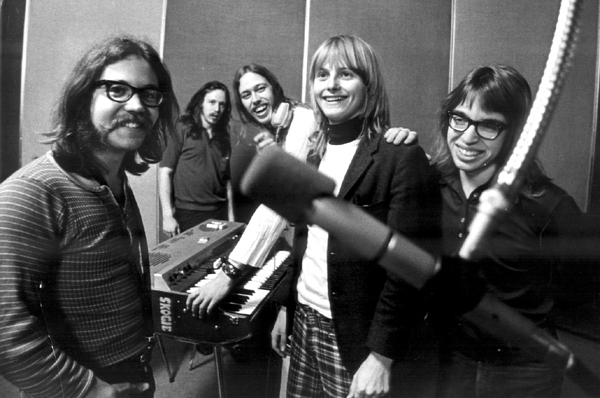 Greenberg, Galles, Peterson, Moore and Goldstein. AudioTek Studios, Uptown Minneapolis Minnestota.


Greenberg, Peterson, Goldstein, Moore and Galles. One Groveland, Minneapolis Minnestota .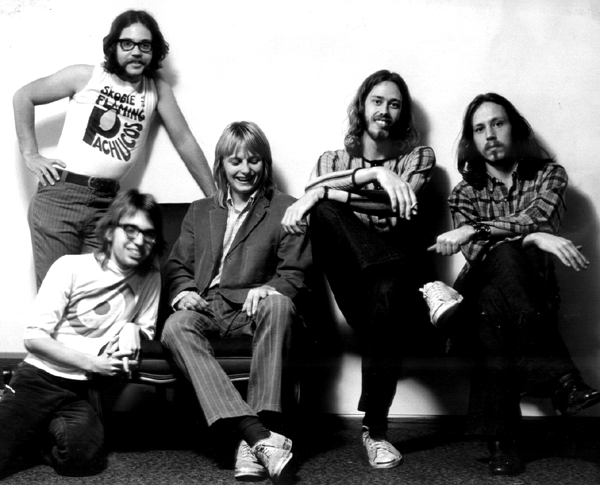 Greenberg, Goldstein, Moore, Peterson and Galles. 1971 in The Euphorium Lounge, Edina, Minnesota.