DAVID BURDICK BIO

Burdick was born in Minneapolis, Minnesota, on the 4th of May, 1953, premature by six weeks or so.
It seems that David was isolated with his family in sub-suburban Burnsville, thus adding to his tormented existence.
He always seemed a bit wacky.....a notch or two off plumb, but that's what made David.

David, along with his cousins: Daniel Wick and Frederick Moore, began writing songs as individuals and sometimes as collaborators.
Burdick's skill as a lyricist was apparent right from the start.
Many of his songs were performed live by the band 'An English Sky' in the late 1960s.
Sadly, Burdick took his own life in the mid-1970s.

Hear Burdick's Home Demo "Solo Album": STREET LIGHT (Audio)

Here's Burdick 'spoofing' the Transcendental Meditation craze.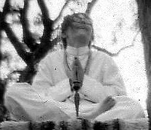 Here's a poem re: Burdick: "THE BURNSVILLE KID" by Dann Wick
Here's a lyric re: Burdick: "OAK TREE" by Frederick Moore

"Wick and Moore" published 3 'hand-made' volumes of song lyrics By Burdick, Moore, and others
Here are the Title Pages and Tables of Contents:
CULPEPPER'S HOROSCOPE
BUFFALOS AND BLUEBERRIES
THE UMBRELLA WOMAN IN THE SUN

ALL 23 SONGS CO-WRITTEN BY BURDICK & MOORE 1966-1969
---